---
Step 1: Log onto to www.bpmis.gov.rw you can see many option provided on the front end. In case you have no account in the system, you need to sign up for a new account.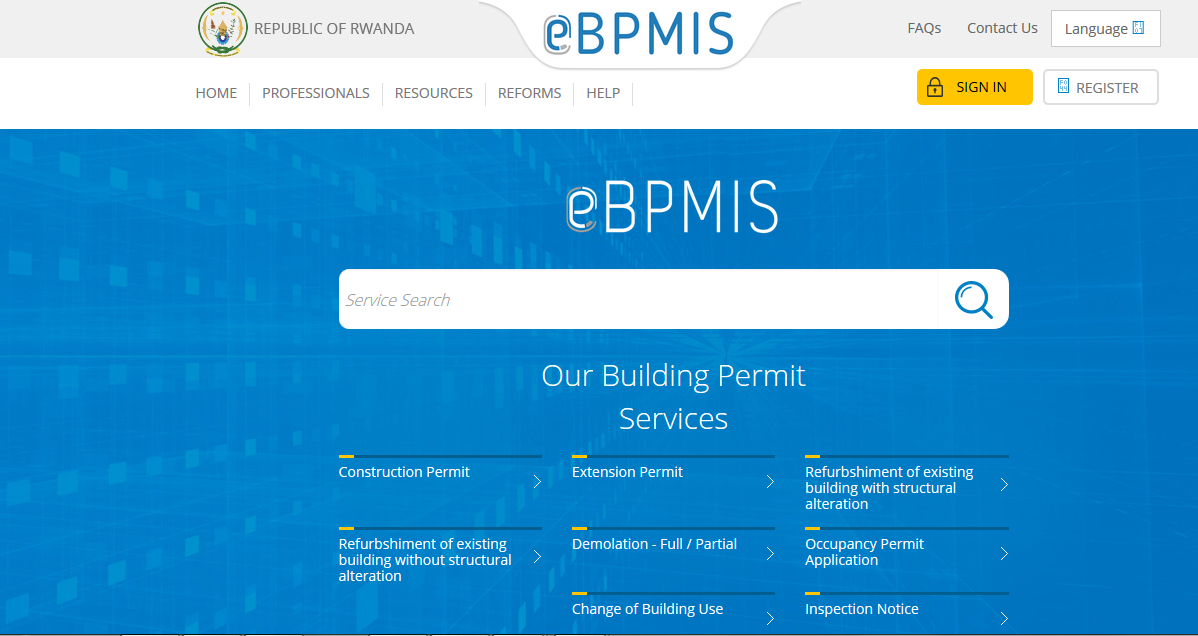 Note: After integration works are complete, the BPMIS will be accessed from www.irembo.gov.rw
Step 2: Register an account by clicking on 'Register' link. You will be required to fill in your personal details, add your profession and create a password. Click 'Save and Continue' button to proceed.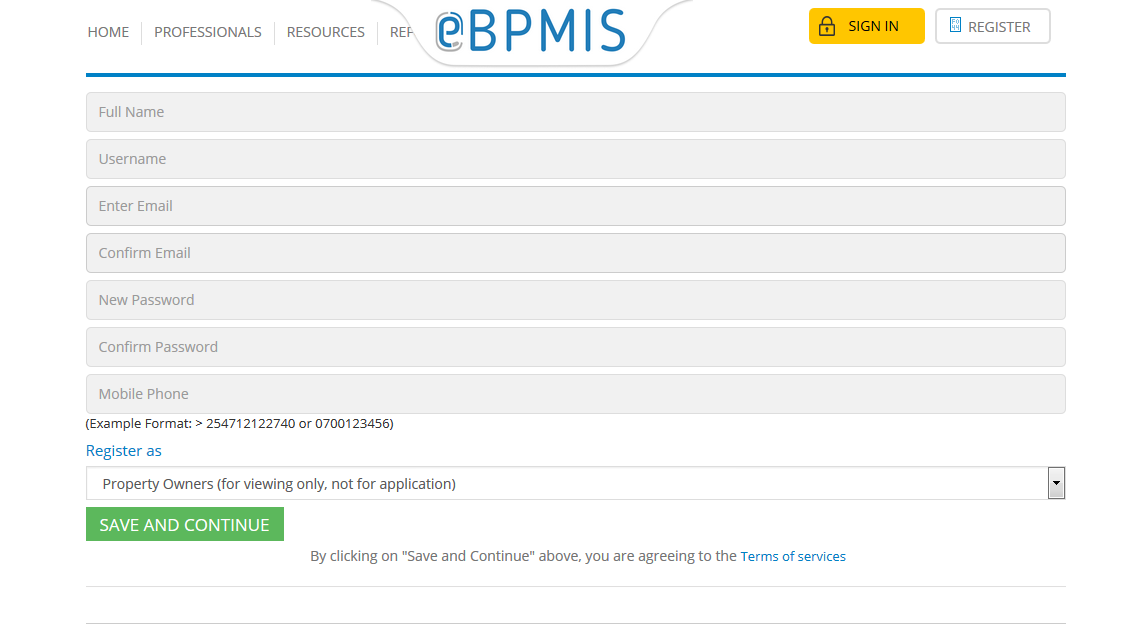 Write down for record your username and password for future applications which may come when you have forgotten them.
Step 3: The system notifies you that the registration is successful. You can verify your account. You will receive an email for confirmation. Follow the steps to confirm you're your account before you can submit any application.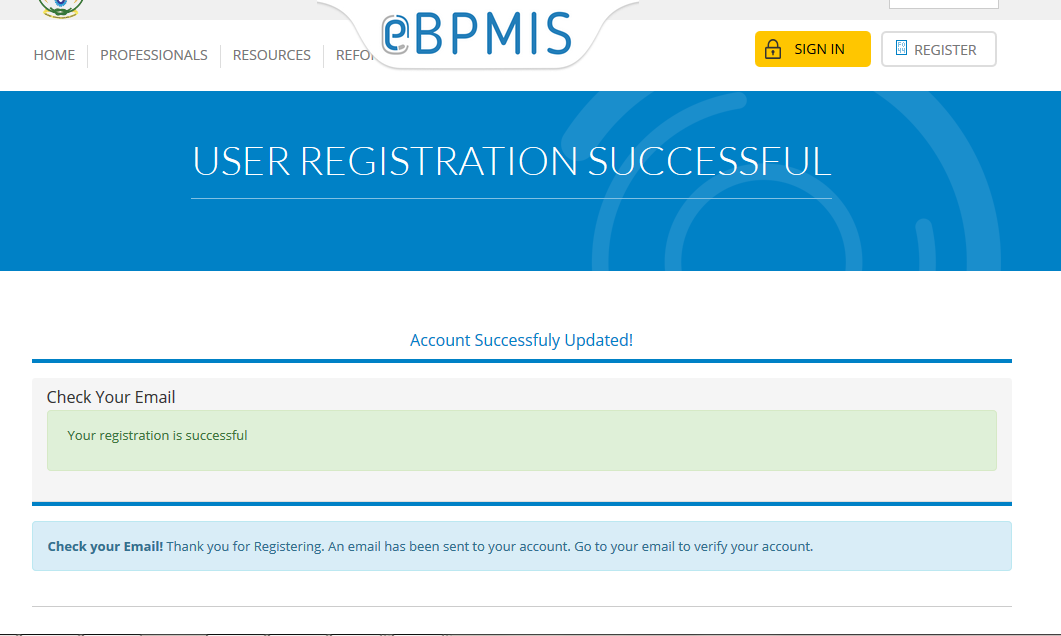 Step 4: Log in to the Building Permtis Management Information System (BPMIS) at www.bpmis.gov.rw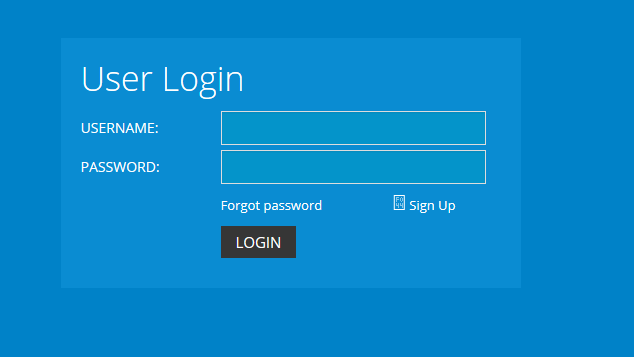 Type in your username and password, log in to access the electronic construction portal.


Step 5: Click on the "make application". This will take you to the application page where you can start inserting required information for a building permit application.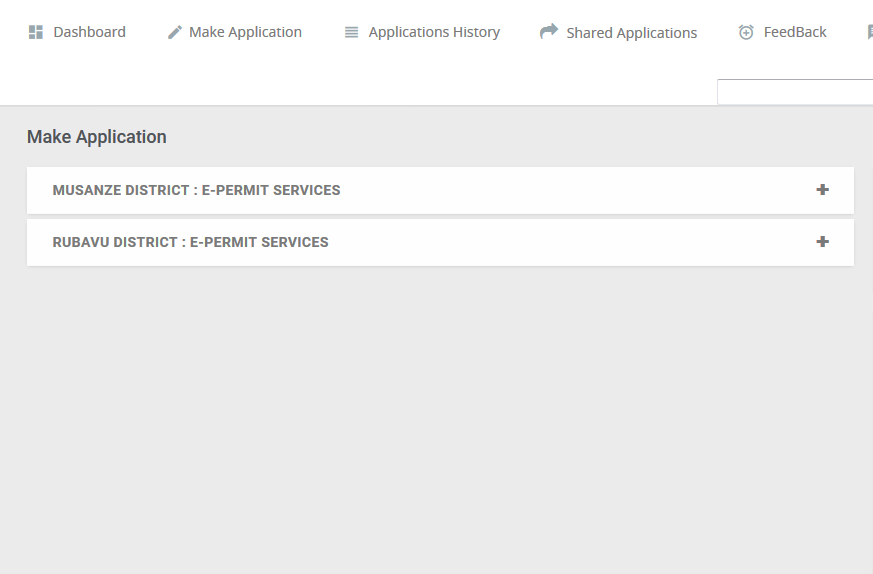 Step 6: Click on 'Apply Now' button and fill in the form provided. Once you have completed the form, Applicants can log into the system and view the status of their submitted building proposals. The system also notifies the applicants via SMS and email once the proposals complete key milestones in the system. Notifications are also received when actions are pending for the applicant e.g. requests to make payment. After approval, the system generates the permit and allows the applicant to download it immediately and commence construction works.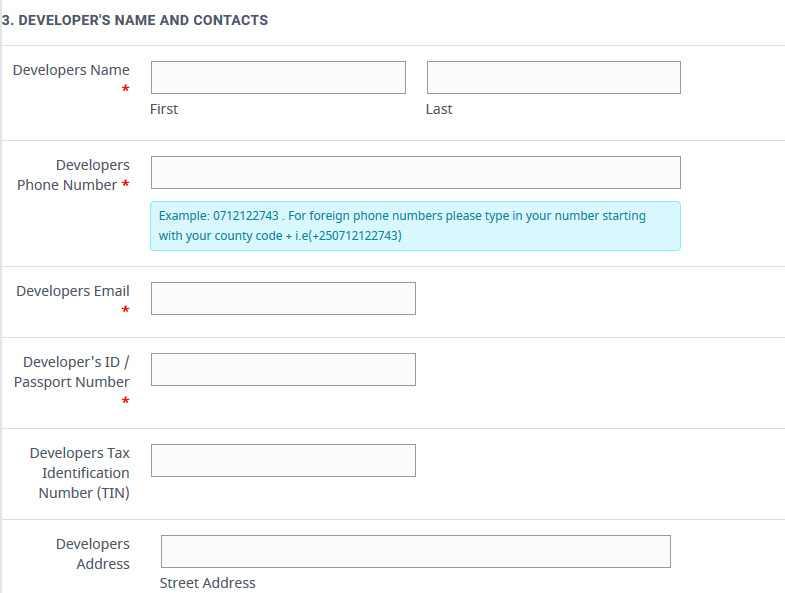 Step 7: Submission :
The officer administrator checks the application has all the requirements

If the requirements are okay, the plan proceeds to review committee.

Else send application back to the applicant with submission comments.

Notification is also sent to the client.

Relevant officers involved in Review stage are notified.

Time Limit less than a day

The director can act on application in this stage.

A reference number is issued.
One application number is maintained for the lifetime of the application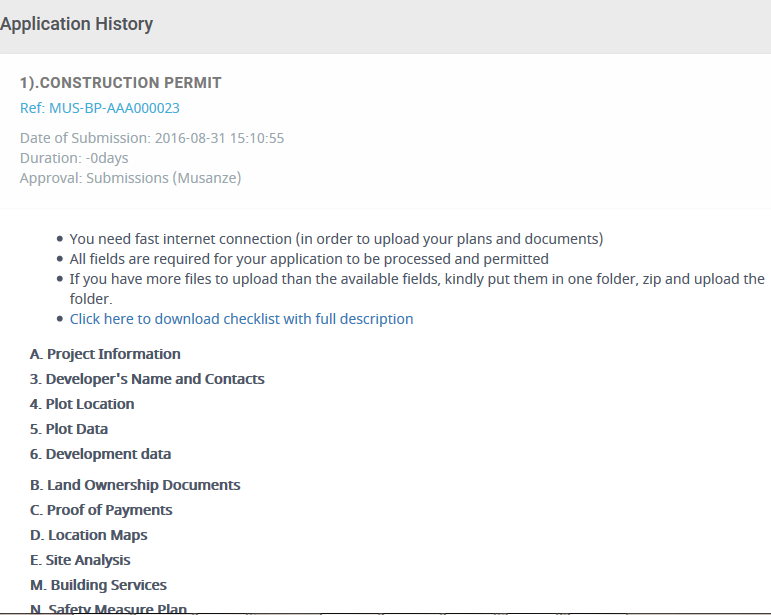 STEP 8: Review and Circulation
Viewing plans and checking validity of submitted documents.

Download plans and view plans using Foxit pdf reader tool.

Check compliance of the plan versus existing master plan.

Site visit

Verify the land details from LAIS

Send back to the Architects with comments

Comments made by technical team should be availed to the director i.e the director should see all comments made by a technical officer.

Technical Comments will be made using built in system comment sheets for each member of the review team

The team supervisor checks all the comments from all reviewers and makes final comments and submits the application to the director for approval
If its not ready for approval the supervisor communicates back to the applicant with comments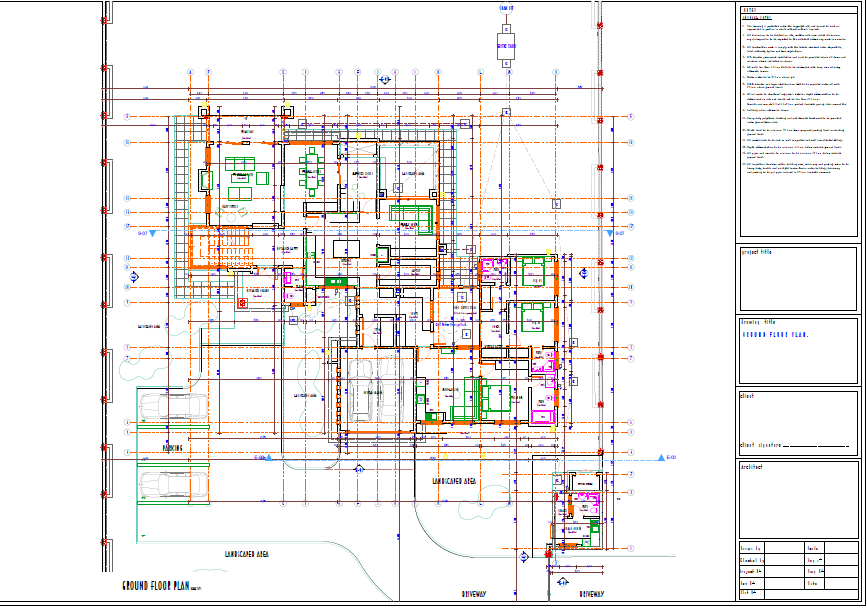 STEP 9: APPROVAL
Director checks the joint report issued by the review team and either;
Approves – issues letter of approval together with an invoice that is communicated to the applicant
Send its back to review team or architects with comments
Reject it – a letter of rejection is generated and communicated with the applicant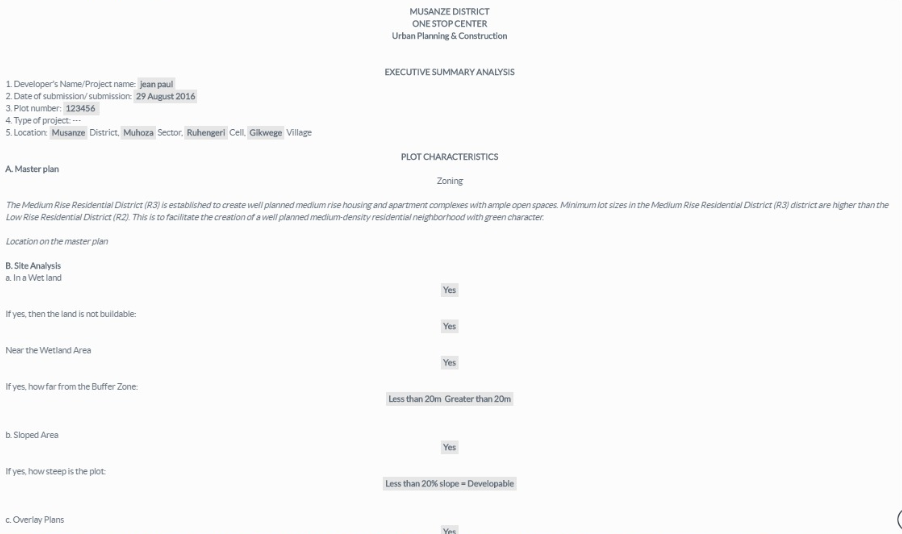 STEP 10: INVOICING
Invoices are generated from the system after director's approval depending on the various fee structures

The Client is notified of the invoice and makes payment

The mobile money service is to be integrated with ROL E-payments system and confirmation of payments made can be made from the backend

Payments will also be integrated with RRA system.

They can also pay via bank

Invoices expires after 15 daysSystem to implement RRA and ROL payment platforms.

Verification of payments to be done on RRA platforms.






STEP 11: PERMIT ISSUANCE

Issued after director approval and payment confirmation.

QR Code embedded on the permit






STEP 12: INSPECTIONS

Architects notify the city when they began the construction work through an application on the front end using commencement form

Inspections will be done through a mobile application that can work offline – the inspection form will be used

Random inspections will be made and the findings reported on the system

There will be a workflow to accommodate changes in plans for the previously approved permits

RHA will be given access to monitor the inspections








STEP 13: OCCUPATION

After construction the architects will apply for an occupation permit through Building occupation permit form which will be approved according to the inspections report